By: Jake
What a race to travel to!  Kelley and I decided to sign up for the Asheville Half Marathon after hearing about the beautiful mountains, the great food and brewery scene.  The race had an additional appeal of being held entirely on the privately owned Biltmore Estate.
We loaded up my truck and plugged the race expo location into the GPS.  The packet pick-up was well organized.  The volunteers quickly answered questions we had about the race day shuttle and gave suggestions of where to grab dinner.  Being a smaller race, the expo was little light on vendors compared to major events.
On race morning, we had the option of driving onto the Biltmore Estate or taking a shuttle from the host hotel.  We opted for the shuttles which ran from 4:30-6:15AM.  We arrived at the start area with over an hour before the start.  This gave ample time to complete a good warm-up, utilize the bathrooms and socialize with other runners.
The Biltmore property is close to 8,000 acres today.  The race director has done a good job mapping out a course that is challenging and filled with fabulous views.  There are a few major climbs early on.  The back half of the race is primarily flat or downhill.  Aid stations are well stocked fuel and enthusiastic volunteers.
As for race tactics, I started out fairly conservative since I didn't know the course in advance.  My concern was "flaming" out on the early hill section, and I wanted a negative split if possible.   I got separated on the hills from the two lead runners and had to play catch up.  From mile 6 to the finish is primarily downhill or flat.  This made it harder to gain ground on the two leaders than I planned on since they were able to surge as well.  While the early climbs were tough, I would push myself harder through those sections next time. Overall, I am happy with my effort and came within 40+ seconds of my PR.  I can't complain about that on a fun, travel race.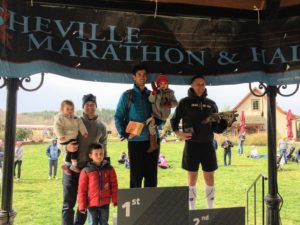 After the race, the fun begins.  There was plenty of food and beer to keep finishers around for a few hours swapping stories.  Bag drop and pick up was hassle free. If you like race swag, you won't be disappointed.  The finisher's "medal" was actually and wooden coaster with the race logo burned into it.
If you decide to do this race, I recommend staying a few extra days to explore.  Touring the Biltmore is worth doing.  The magnitude of the mansion is stunning.  Asheville is like Napa Valley for craft beer.  Close to 50 craft breweries call the area home.  We didn't get a bad meal at the restaurants visited.  Outdoor activities like hiking and camping nearby. I am already considering signing up for next year's event!
Jake's race stats:
Finish time: 1:23:26
3rd place overall
2nd place Male
1st place 35-39 Age Group
Average pace: 6:22/mile