For many runners, qualifying for the Boston Marathon is the pinnacle of their running careers. Some are talented enough to nab a qualification on their first marathon attempt, while most work for years to finally run a qualifying time. And qualifying is not always enough, With Boston Athletic Association's already tough standards, in recent years a cut off time was put into place due to a higher volume of qualifiers, causing qualified runners to lose a spot.
The Rogue Racers Quest to Qualify Series will tell the story of each of the Rogue founders' journey to their first Boston Qualifier. In this, hopefully you will find inspiration and motivation to keep pushing and keep improving.
Jake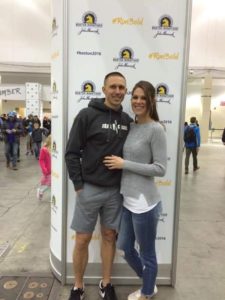 Exhausted, sweaty and nearly in tears I kept asking myself "How in the world do I feel this amazing?"  I just couldn't believe it.  There is no way this is real.  I must be dreaming.  My brain had yet to grasp what my emotions were screaming.
Then the most wonderful race volunteer handed me a bottle of water and said to me "Congratulations on qualifying for Boston!"  I had accomplished a goal that I not only once deemed impossible but had failed in 3 prior attempts.  The reality finally started to sink in as other runners crossed the finish line.  They were shouting for joy with fists in the air as they had realized their goals too.  I just wanted to soak it all in.  I simply couldn't get enough of the feeling.
The Erie Marathon at Presque Isle State Park will forever be etched in my memory as the perfect race course.  It's not the most scenic or challenging course.  It doesn't have huge crowds or massive numbers of runners.  What makes Erie special for me is what led me to the starting line in the fall of 2015.
When I signed up for my first marathon in 2013, I had no clue what I was doing.  What I did have was couple of great training partners. Our primary goal was to finish, and if we were lucky to do so under 4 hours.  
16 weeks later
I found myself extremely nervous while packed in the starting corral for the Columbus Marathon.  After several minutes of some serious internal pep talking and one last stop at the restroom, the signal to begin this crazy idea went off.  3 hours and
55 minutes later
I crossed the finish line.  I was so fired up.  I had officially been bitten by the running bug and wanted more of it.  Could I go faster? I wanted to know. No, I needed to know if it was possible.
My next marathon was the Charlottesville Marathon in Virginia.  I trained through the harsh winter months feeling fitter than ever.  My body was enjoying the challenges I presented it.  As the race drew closer, I started thinking about a goal pace.  Was dropping a minute per mile off my time too bold?  Somehow I convinced myself to push for it.  When my family and I arrived in Charlottesville on race weekend, my heart sank.  I had stupidly forgotten to take into consideration hilly terrain that would be just off the Blue Ridge Mountains.  "Well, it's time see how motivated you are!" I told myself.  The gorgeous course weaved its way around the city and the University of Virginia.  As I approached the final stretch, my son ran out onto the course and held my hand for the last hundred yards.  I will never forget that experience.  I had finished my second marathon on a challenging course in
3:31:33
or an 8:05/mile.
A few weeks later, I later I decided to look into the qualifying standards for the Boston Marathon after reading about that year's race.  I looked at the time needed for my age group.  A few hours later, I looked at it again.  It seemed daunting, but something kept chirping in my ear that this might be achievable.  Then I signed up for the Columbus Marathon with a goal of going sub 3 hours and 10 minutes.  I needed to shave another 21+ minutes off my most recent effort.  With this in mind, I put more focus on my training and eating habits.  I began to run with a group and quickly realized the benefits.
In the fall of 2014, I was back in the corral eager to put my training to test.  I went out with the
3:05
pace group and felt great.  I was confident and ready to conquer this.  But then, my body started to hit the dreaded wall.  The pacers balloon started getting a little farther away.  I kept telling myself keep it sight.  The balloon simply had other ideas and slowly drifted out of sight.  I crossed the finish line in
3:10:30
seconds.  Another huge improvement, but I was absolutely crushed to have come so close only to fall short.  My mother was there in the finisher's area to great me.  She did what all great moms do.  She gave me a big hug and tons of encouraging words
I quickly found my next race to push for Boston.  I signed up for the New Jersey Marathon along the shore.  The course looked flat and straight.  Part way through the race, I knew it was not my day and finished short of my goal again.  This time I finished in
3:12:37
.  I was frustrated but not discouraged.
On the way home I decided to give it one more shot that spring, and registered for the Buffalo Marathon on Memorial Day weekend.  It was a little more than a month a way.  Plenty of time to recover and run again I naively convinced myself.  I would learn soon enough that I was wrong.  I got to mile 21 on the Buffalo course and felt like I could not go another step.  My foot was bleeding and my head was pounding.  It was at this exact moment a spectator handed me the coldest and most delicious beer ever.  I was stunned at how good it tasted.  I found the motivation to finish (albeit not the most recommend way).  I ended up finishing
in 3 hours
and 16 minutes.  Short again but encouraged with the effort.
I registered for the Erie Marathon with a renewed sense of purpose.  I re-evaluated what had worked and what had not in my training and strength conditioning.  In one year's time I had made huge strides.  I started asking my fellow training partners for advice.  I began reading more about successful runners and their habits.  I logged more miles each week than I had previously.  I worked on my core strength regularly.  So when I arrived in Erie on that fall morning in 2015, I felt the nervous butterflies in my stomach again.  I kept repeating to myself "Trust.  You need to trust the training."
I started the race off more conservatively than my previous marathons.  After about 4 miles, another racer asked if he could pace with me for a while since he was trying to BQ too.  This was a blessing in disguise.  My fellow runner kept me motivated throughout the race.  I crossed the finish line in just over 3 hours and 3 minutes with a new marathon PR and my first BQ!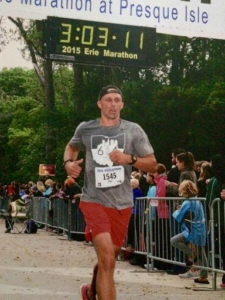 I am extremely grateful for all those that helped me in the journey.  I simply could not do it without your support.
Read about other Rogue Racers' Quest to Qualify stories here.