ROGUE FOUNDERS & BOARD MEMBERS
Brian C. – Founder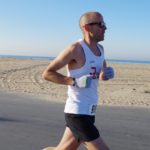 Brian first started running in 2005 after being inspired while watching the NYC Marathon. 19 marathons later, Brian has a current streak of 7 consecutive Boston Marathons and hopes to make it to 10 in 2022. Brian has dropped his marathon PR by 1 hour and half marathon by 30 minutes since following structured training plans. Brian is 43 years old and resides in Huntington Beach CA as a founding member of Rogue West Coast!
His current personal bests are:
5k – 17:40
10k – 36:34
Half Marathon – 1:19:55
Marathon – 2:53:48
Bryan – Founder & Board Member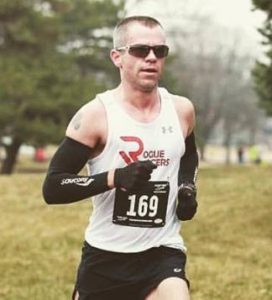 Bryan has been an active member in the Columbus running community since 2009. He thrives on hard work, competition, and camaraderie among his teammates. Bryan, an experienced distance runner, has completed 26 marathons including 5 Boston Marathons. Bryan is 43 years old.
His current personal bests are:
5k – 17:11
10k – 35:55
Half Marathon – 1:16:54
Marathon – 2:44:43
Jake – Founder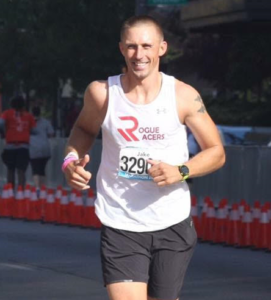 Since completing his first marathon in the fall of 2013, Jake has finished 21 marathons in 9 different states. Jake ran his first Boston Marathon in 2016. Jake has steadily improved his marathon performance. He credits a more disciplined approach and the help of group training. Jake is 41 years old.
His current personal bests are:
5k: 17:55
Half Marathon: 1:21:23
Marathon: 2:47:40
Jason – Founder & Board Member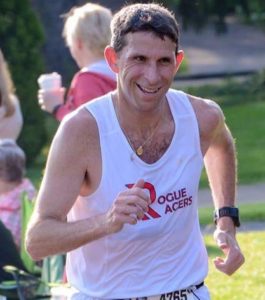 Jason is a tennis instructor from Columbus, Ohio and has run over 20 marathons and 20 half marathons. He was the overall winner of the 2020 Towpath Marathon. In October 2016, he represented Columbus as a Marathon Ambassador at the Dresden, Germany Marathon where he ran his first sub 3 hour marathon. In 2019, Jason was chosen to be the flag bearer for Hungary in the opening ceremonies of the New York City Marathon. In 2021, Jason was able to run under 2:50 for the first time at the Glass City Marathon. In his spare time, Jason likes to play father and son national tennis tournaments with his father. They have won 8 national doubles titles together. Jason loves group runs and especially speed workouts on the track and he hopes to run all 6 major marathons someday. Jason is 48 years old.
His current personal bests are:
5k – 17:24
10k – 34:42
Half Marathon – 1:19:59
Marathon – 2:49:49
Ken – Founder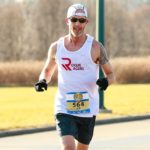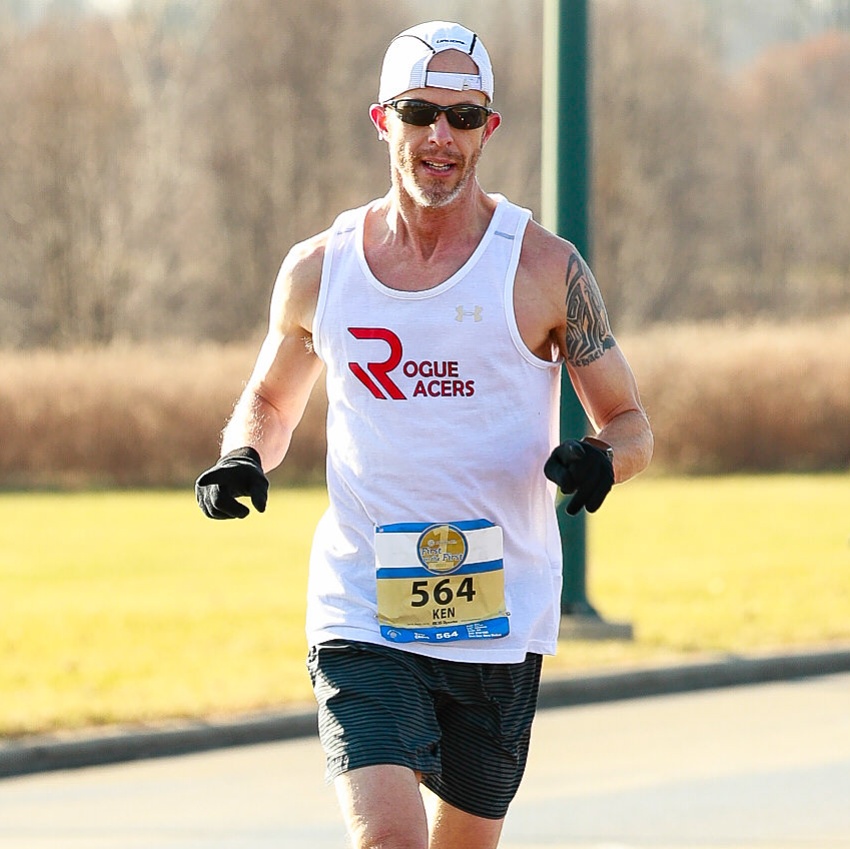 Ken no longer runs with Rogue Racers but Ken was one of the Original 6 founders of this club. We would not be where we are as a team without Ken's hard work in laying the foundation for Rogue Racers!
Ryan – Founder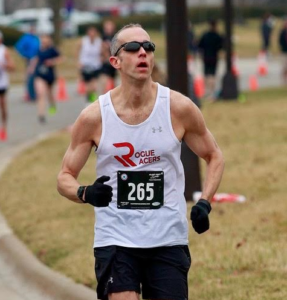 Ryan has been a runner his whole life, from his childhood days on the playground competing in the track competitions through his college track days. Running has always been a passion of his because he likes the adrenaline rush of competing along with the camaraderie of training with his friends. Ryan has become an experienced distance runner and has completed 22 marathons and one 50K ultra-marathon, along with 5 Boston Marathons. Ryan is 45 years old.
His current personal bests are:
5K – 17:04
10K – 35:31
Half Marathon – 1:16:45
Marathon – 2:45:01
Amy P. – Board Member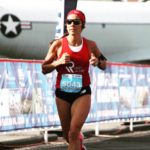 Amy has been running for the majority of her life, though in college running took a backseat. She ran races here and there and ran her first marathon in 2011. After her son was born in 2015 she realized how much she missed it. Amy knew it was time to get back into competitive running. Her current goals are to PR in each major distance, marathon, half marathon, 10K & 5K. Amy is 37 years old.
Her current personal bests are:
5k – 18:48
10K – 41:18
Half Marathon – 1:27:54
Marathon – 3:15:16
Brian K. – Board Member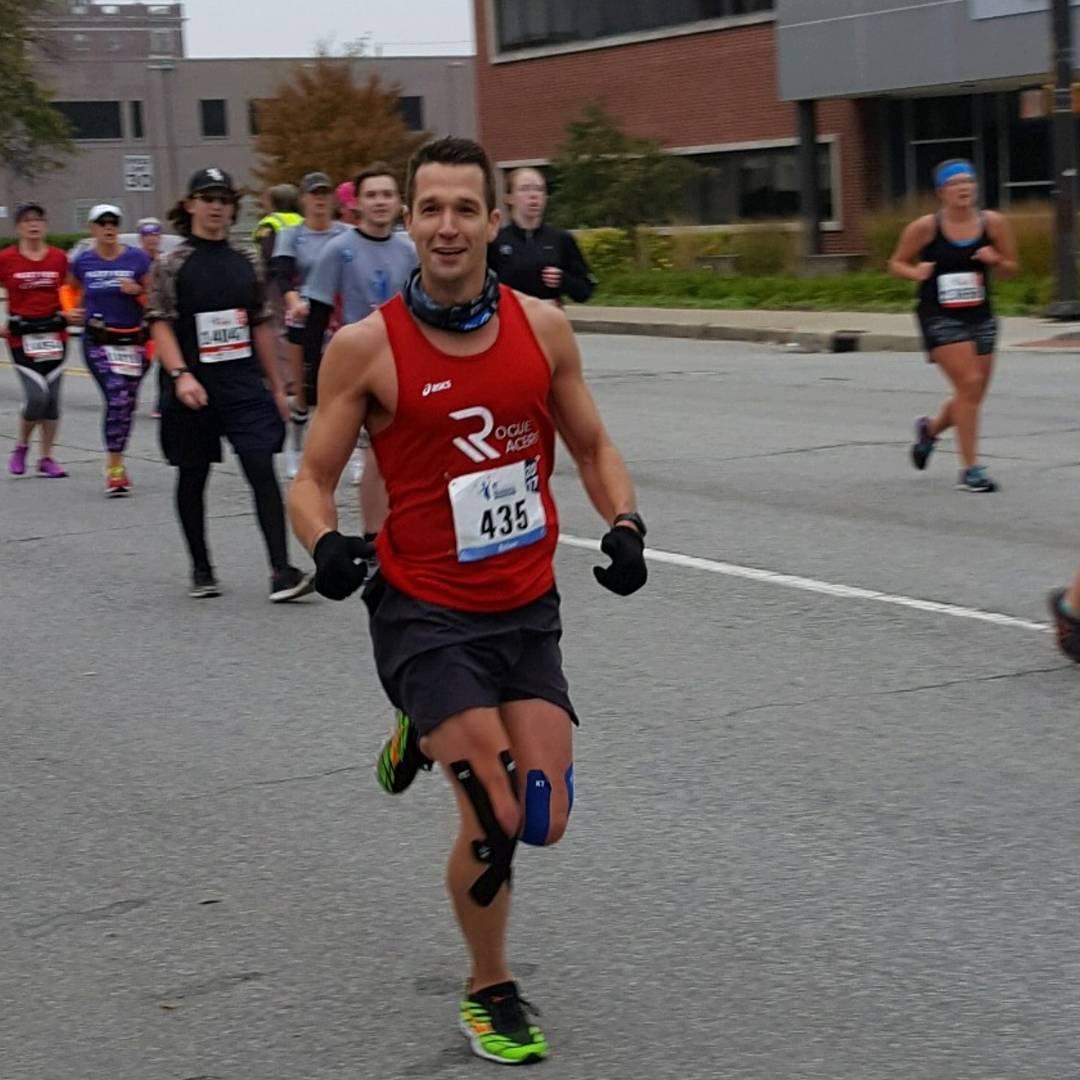 Brian was always a soccer player and more of a casual runner having done a handful shorter races on minimal training. After moving to California in late 2012 he joined a running club to meet people. Since then running has run his life, he has run 28 marathons and 10 ultra's. Brian has ran 9 Boston Marathon qualifying times. His favorite marathon is the Indianapolis Monumental Marathon. Brian is 40 years old.
His current personal bests are:
5k – 16:41
10k – 36:24
Half Marathon – 1:18:24
Marathon – 2:52:20
Dave – Board Member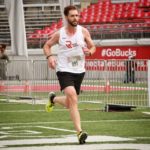 Dave started running on May 26, 2010 when he realized his favorite jeans were getting tight and he knew he needed to make a lifestyle change. Three months later, he entered a local race and was hooked. Now, 11 years and over 26,000 miles later, he has finished 23 marathons with 12 BQs and has run Boston four times and New York City and Chicago once each. He has also completed two 50Ks, one 100K and one Ironman 70.3 and has participated in one Relay Around Columbus and two Hood to Coast Relays. Dave loves the social aspect of running and is always up for pacing opportunities or a group run anywhere. He is an RRCA-certified running coach. Dave is 49 years old.

His current personal bests are:
5k – 18:13
10k – 42:33
Half Marathon – 1:27:49
Marathon – 3:10:25
Jennifer – Board Member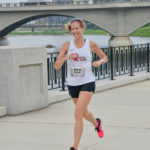 Jen started running in high school but it wasn't until her boyfriend at the time signed her up for her first marathon in 2004 that she even considered running a marathon. After her fourth marathon, which was her first Boston Marathon experience, she took some time off to start a family. She started running with a group in 2012 and was able to shave nearly fifteen minutes off of her marathon time. Following the birth of her third child, she set her eyes on qualifying for the New York City Marathon, which she ran in 2016. Jen spends most of her time running her four kids to all of their activities, volunteering at her kids' schools, organizing races and coaching Girls on the Run Program at her daughter's elementary school. Jen is 40 years old.
Her current personal bests are:
5k – 17:58
10k – 39:31
Half Marathon – 1:26:20
Marathon – 2:55:55