ROGUE FOUNDERS
Brian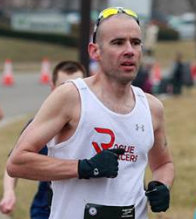 Brian is a 10x Boston Marathon Qualifier with 2017 being his 5th consecutive year running. Favoring longer distances, Brian has dropped his marathon time by 56 minutes and half marathon by 24 minutes since starting structured training plans. In 2016 Brian started competing in triathlons and finished in the top 200 at the IRONMAN 70.3 Ohio event. Brian is 41 years old.
His current personal bests are:
5k – 18:45
10k – 38:49
Half Marathon – 1:23:24
Marathon –  2:58:31
Bryan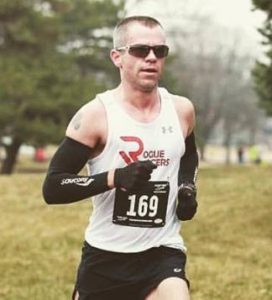 Bryan has been an active member in the Columbus running community since 2009. He thrives on hard work, competition, and camaraderie among his teammates. Bryan, an experienced distance runner, has completed 20 marathons including 3 Boston Marathons. Bryan is 38 years old.
His current personal bests are:
5k – 17:28
10k – 36:14
Half Marathon – 1:19:06
Marathon – 2:55:12
Jake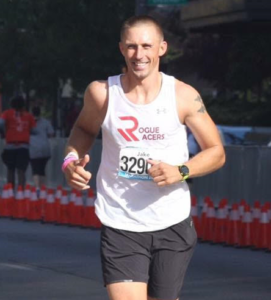 Since completing his first marathon in the fall of 2013, Jake has finished 11 marathons in 9 different states. Jake ran his first Boston Marathon in 2016. Jake has steadily improved his marathon performance.  He credits a more disciplined approach and the help of group training. Jake is 37 years old.
His current personal bests are:
5k: 17:55
Half Marathon: 1:22:53
Marathon: 2:52:57
Jason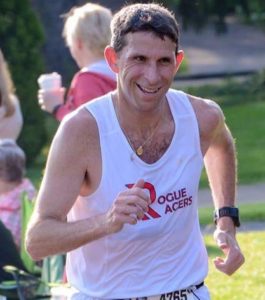 Jason Homorody is a tennis instructor from Columbus, Ohio. Jason enjoys the competition that running provides and he has qualified for the Boston Marathon 5 times. In October 2016, Jason represented Columbus, Ohio as a Marathon Ambassador at the Dresden, Germany Marathon where he ran his first sub 3 hour marathon and was the first place American. Jason loves training with his Rogue friends, and his main focus is improving his PR's in a variety of distances. Jason is 43 years old.
His current personal bests are:
5k: 17:43
10k: 37:54
Half Marathon: 1:23:06
Marathon: 2:59:39
Ken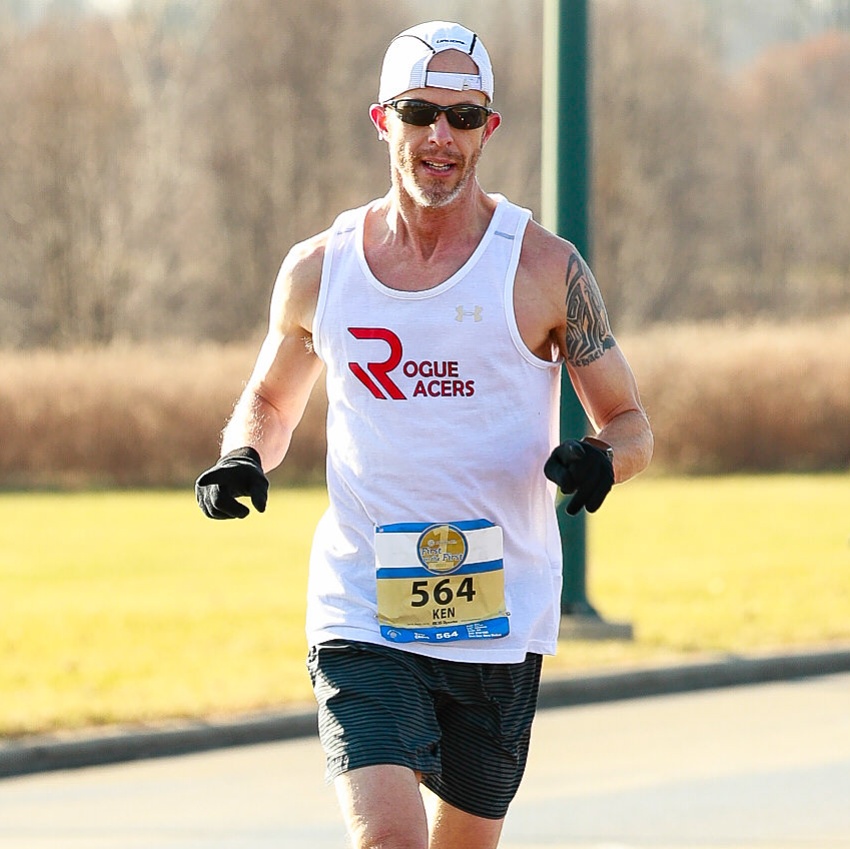 Ken began running in 2011 and ran his first half marathon on his 42nd birthday. He has since run 16 marathons including four Boston Marathons. He also has completed 10 ultra-marathons including two 50 mile races and one 100 mile race. Ken loves the health benefits of running but most of all loves the hundreds of friends he has made along the way. Ken is 47 years old.
His current personal bests are:
5k – 17:37
10k – 36:59
Half Marathon – 1:21:05
Marathon – 2:52:28
Ryan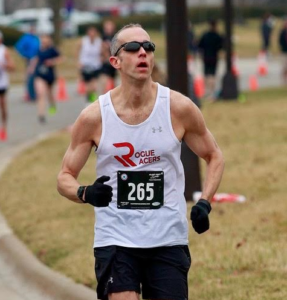 Ryan has been a runner his whole life, from his childhood days on the playground competing in the track competitions through his college track days. Running has always been a passion of his because he likes the adrenaline rush of competing along with the camaraderie of training with his friends. Ryan has become an experienced distance runner and has completed 16 marathons and one 50K ultra-marathon, along with one Boston Marathon. Ryan is 41 years old.
His current personal bests are:
5K: 17:43
10K: 36:30
Half Marathon: 1:21:08
Marathon: 2:58:33
ROGUE RACERS
Brian K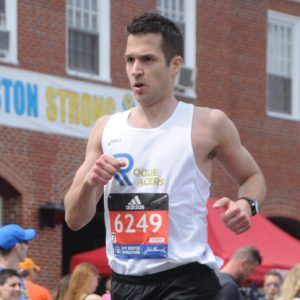 Brian was always a soccer player but more of a casual runner having done a handful of 5k's and 2 half marathons on minimal training. After moving to California in late 2012 he joined a running club to make friends and meet people. Since then running has run his life, he has run 12 marathons and 7 ultra marathons. Brian has raced marathons, been an official pacer, paced friends and done some for the fun of it. His favorite marathon is the Boston Marathon, he has ran it 3 times. Brian is 35 years old.
His current personal bests are:
5k: 17:23
Half Marathon: 1:22:24
Marathon: 3:00:38
Cindy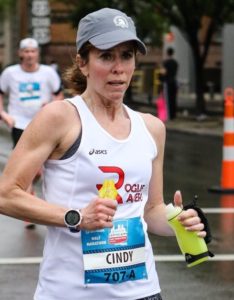 Cindy has been a runner for over 20 years, but didn't start racing until her first marathon at the age of 41. She has run the Boston marathon 3 times, and qualified 5x. With 12 marathons (including New York City and Chicago) under her belt she prefers to focus on this distance above all others. Having ran over 60 races, she uses the shorter distances as speed work for marathons. She works as a personal trainer, fitness instructor and running coach to her clients. Her "far reaching" bucket list goal is to run all of the world major marathons. Cindy is 52 years old.
Her current personal bests are:
5k: 23:01
10k: 47:46
Half Marathon: 1:44:33
Marathon: 3:49:48
Dave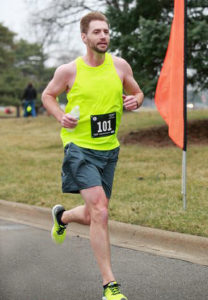 Dave started running on May 26, 2010 when he realized his favorite jeans were getting tight and he knew he needed to make a lifestyle change.  Three months later, he entered a local race and was hooked.  As he approaches his 7-year anniversary of making the decision to run, he has now logged over 14,000 miles and finished 15 half marathons, 11 full marathons including Boston twice and one 50K.  He has also participated in one Relay Around Columbus and one Hood to Coast Relay.  Besides competing, he loves the social aspect of running and connecting with runners wherever he goes.  Dave is 45 years old.
His current personal bests are:
5k: 18:13
10k: 42:44
Half Marathon: 1:27:49
Marathon: 3:10:25
Doad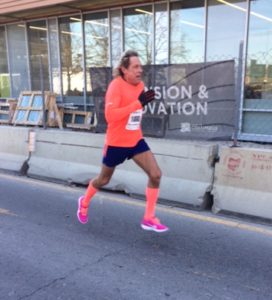 Doad started running at the age of 59 after following his son, Patrick, during his marathons. In 2011 he discovered after running from mile marker to mile marker that he really enjoyed this sport and could compete. Today he enjoys the competition but the true reward of running for Doad is raising money and awareness for many causes. At the age of 66, he runs approximately 70 plus races a year and he's having the time of his life! Most of all, he enjoys all the wonderful people he has met in Columbus and around the country and calls them his friends! Run with the wind! Doad is 66 years old.
His current personal bests are (all set in the last 2 years):
5k: 19:03
10k: 42:12
Half Marathon: 1:28:30
Donnie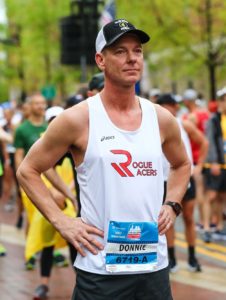 Donnie started running in 2010, and has been running with a training group since 2012. He has qualified for the Boston Marathon in all 6 marathons he has run. He feels he is ready to push himself further in running and see where he can go. Donnie is 51 years old.
His current personal bests are:
5k: 19:11
10k: 42:37
Half Marathon: 1:29
Marathon: 3:15:54
Erick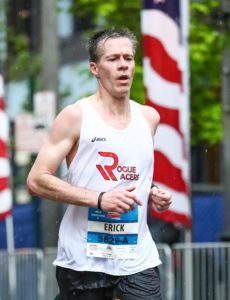 Erick started running in 2012.  After following a generic training plan and running on his own over the summer, he ran a Boston qualifying 3:19 in his first marathon at Columbus in 2012.  He joined a training group in 2013 and dropped his PR at Columbus by over 20 minutes to 2:57 in 2013 and followed that with PRs of 2:53 in 2014 and 2:51 in 2015.  Erick is a 5x Boston qualifier and is 49 years old.
His current personal bests are:
5k: 17:42
Half Marathon: 1:23:07
Marathon: 2:51:40
Erika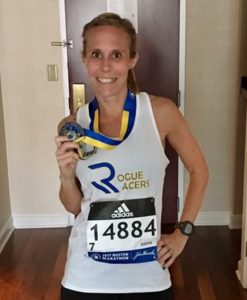 Erika found her love for running when she was in the 5th grade.  She ran competitively in junior high and high school.  It wasn't until after having her first kid and being inspired by her brother-in-law, Bryan, that she started training again.  Erika ran her 2nd marathon in April, the Boston Marathon and has qualified to run it again in 2018. Erika is 36 years old.
Her current personal bests are:
5k: 21:10
10k: 44:54
Half Marathon: 1:35:15
Marathon: 3:28:10
Fred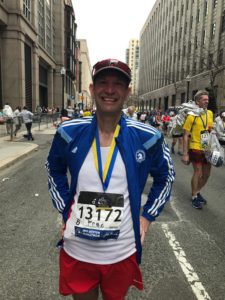 Fred began running again in 2012 after a long hiatus.  He ran his first marathon at the age of 46.  He has run a total of 7 marathons, including his first Boston Marathon in 2017 at the age of 50.  The Boston Marathon was an amazing experience for him, and Fred intends run Boston again.  Fred began running to improve his physical, emotional and spiritual life after his mother and sister passed away from ovarian cancer in 2011. Fred cherishes the 8 close friendships he has developed with running.  Fred is 50 years old.
His current personal bests are:
5k: 20:42
10k: 44:20
Half Marathon: 1:32:16
Marathon: 3:24:28
Jamie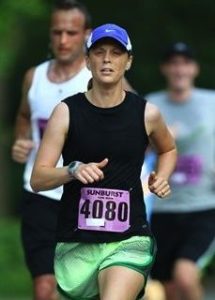 Jamie's love for running started more than 25 years ago with the Columbus Marathon Crackerjack kids run leading to competing on the cross country and track teams all the way through college. Since college, Jamie spent ten years of coaching at the high school level and has run eight marathons including two Boston Marathons. Jamie met her husband John through college track and cross country, she enjoys training with friends, and inspiring a love for running in her children. Jamie is 38 years old.
Her current (post collegiate) personal bests are:
5k: 20:41
10k: 43:07
Half Marathon: 1:38:02
Marathon: 3:22:13
John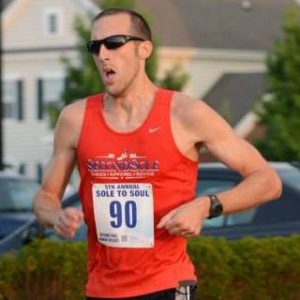 John is a 4x Boston Marathon qualifier since running his first marathon in Columbus in 2013. In college he qualified for nationals in the 4x400m but has gradually transitioned to longer races. John loves the team aspects of training and competing with friends and some of his favorite races are still relays. John is 40 years old.
His current personal bests are:
5k: 16:27
10k: 35:03
Half Marathon: 1:17:43
Marathon: 2:37:19
Kelley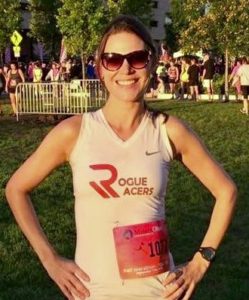 Kelley has been running her entire life. She's run 2 marathons and plans to run many more. Her favorite thing about running is sharing her passion and time with her fellow Rogue and best friend, Jake. She qualified for the Boston Marathon at Columbus Marathon in the Fall of 2016. Kelley is 34 years old.
Her current personal bests are:
Half Marathon: 1:38:03
Marathon: 3:34:49
Kristin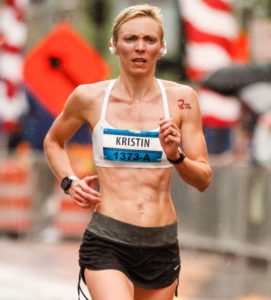 Kristin is a long time distance runner, who began marathoning in 2005. Since that time, she's completed 11 marathons, including 3 Boston Marathons. Most recently, Kristin has time qualified for the 2017 New York City Marathon. She is a born competitor, but enjoys running the most for the health benefits and friendships it has given her. Kristin is 34 years old.
Her current personal bests are:
5K: 19:50
10K: 41:11
Half marathon: 1:30:18
Marathon: 3:13:30
Kristina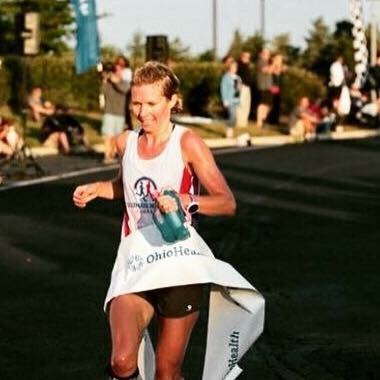 Kristina started running in high school but did not begin competitive running until after her first son was born in 2005. From 2005-2009, she ran several marathons with Team and Training and eventually
became an assistant coach for the program. Since then she has run over 30 marathons including 8 Boston marathons and various races of the half, 10k and 5k distances. Kristina loves running and the friendships that she has made along the way. Her current goals are to break 1:25 in the half marathon and 3 hours in the full marathon distance. Kristina is 38 years old.
Her current personal bests are:
5K: 18:53
10K: 39:48
Half marathon: 1:26:04
Marathon: 3:07:25
Lauren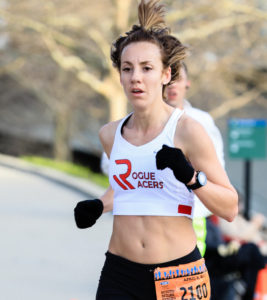 Lauren discovered a passion for running in 2015 after training for her first half marathon. Even though she had no prior history with the sport, after one race, she was hooked! Since her inaugural race, she has completed many races at the 5K, 10K, half and full marathon distances with age group and podium wins in the US and internationally. In the next year, Lauren is focused on the marathon distance and is looking forward to getting faster and stronger. Lauren is 30 years old.
Her current personal bests are:
5k – 20:21
10k – 40:20
Half Marathon – 1:32:10
Marathon – 3:20:26
Megan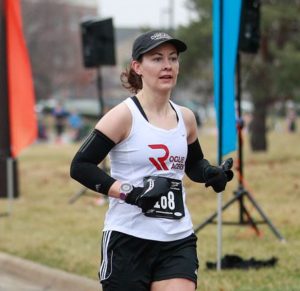 Megan has been running in some form for her entire life – first away from her older brother, Aaron, then as a soccer player, and now as a marathoner – chasing after her husband, Bryan. Megan ran her 11th marathon in April, the Boston Marathon. Megan is 34 years old.
Her current personal bests are:
5K – 20:16
10K – 43:22
Half Marathon – 1:36:47
Marathon – 3:31:50
Paul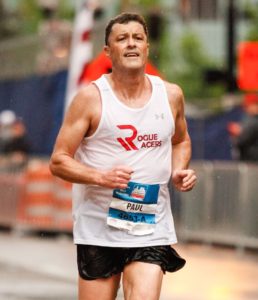 Paul began competitive running in the UK favoring distances of 10K and the half marathon. Since moving to Columbus he ran his first marathon in 2015 and is now on number 4, the last one being New York City where he came in 5

th

in his age group. He is still working out the strategy of the marathon but meanwhile likes to race the shorter distances at suicide pace. Paul is 56 years old.
His current personal bests are:
5K – 16:15
10K – 33:36
Half Marathon – 1:14:31
Marathon – 2:45:14
Steve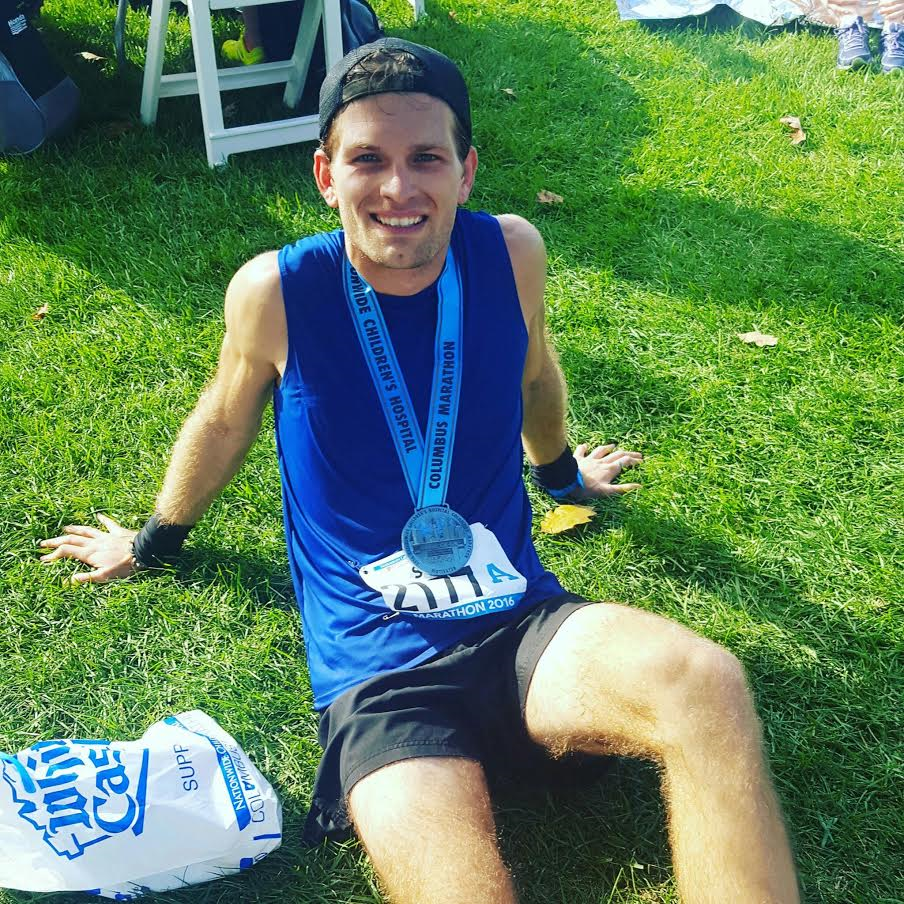 Steve quit saying 'cannot' after he challenged himself to finish a marathon in 2013. Setting goals, working towards them, and helping others do the same is his favorite part of running. Qualifying for the Boston Marathon has been his greatest running achievement thus far. He is currently focused on finishing a 100 miler and running a sub-3-hour marathon. Steve is 30 years old.
His current personal bests are:
5K – 19:22
10K – 40:45
Half Marathon – 1:30:22
Marathon – 3:03:28
Susan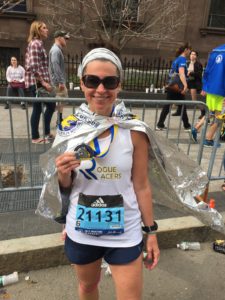 Susan started running more seriously after her first half marathon in 2011. Since then she's been a competitive age group runner. In 2015, she saw personal bests in the mile, the half marathon, and the marathon (Chicago Marathon), where she ran her first Boston Qualifier. She just completed her first Boston Marathon. Susan is 46 years old.
Her current personal bests are:
5k: 21:55
Half Marathon: 1:42:15
Marathon: 3:44:18
Wendy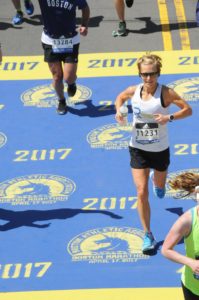 Wendy has been running for 36 years and completed 39 marathons including 9 Boston Marathons.  Over the last few years Wendy began competing in triathlons and has completed three full Ironman races.  Wendy loves the friendships she has made through running and supporting others to achieve their goals! Wendy is 48 years old.
Her current personal bests are:
5k: 19:37
Half Marathon: 1:34:55
Marathon: 3:14:49